Crazy Delicious Low-Carb Crab Dip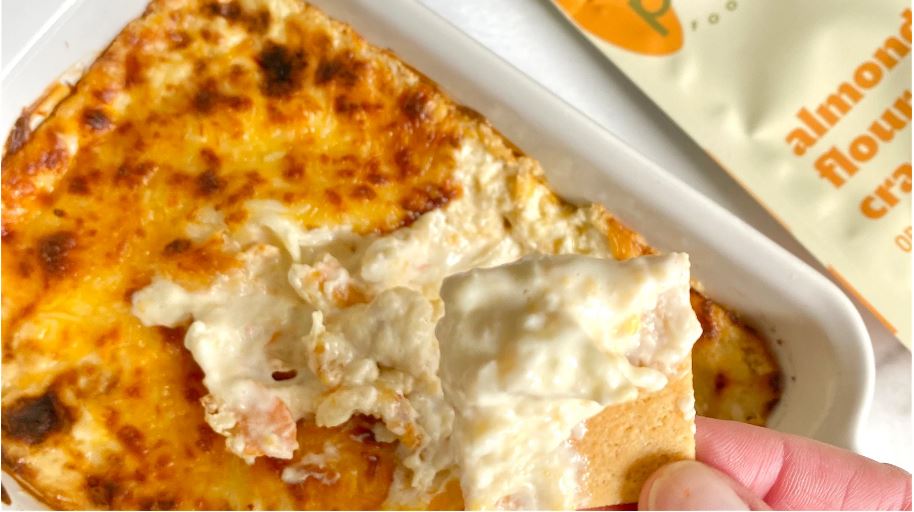 Shout out to all you dip lovers out there, this yummy crab dip is not only low-carb, high in healthy fats, and high protein (macro counters dream come true), but it is also cheesy, creamy and so crazy delicious. It's also so easy, you can whip it up in a heartbeat. It's perfect for a dinner party appetizer or a relaxed evening in. So decadent, your guests will be in awe of your culinary skills, but easy enough, you don't have to be a cooking whiz to make it.
For all the carb conscious, whether you're following a keto diet plan for weight loss, keeping it low-carb to manage your diabetes, or just trying to make heathier choices, this low-carb dip pairs perfectly with our clean keto crackers. They are low-carb, gluten free and made with clean ingredients. We chose to pair it with our Original Almond Flour Phat Crackers, but it would also be amazing with the Cheddar Phat Crackers. Paired with a full serving of our keto crackers, you're only looking at 3 net carbs. Win, Win!
We had left over king crab from a recent crab legs dinner, but you can easily buy crab from your local grocery store, fresh or canned. We highly recommend real crab over imitation. While imitation crab is made from fish, it doesn't provide all the omega-3 benefits of crab. Often it also contains starch from corn, wheat or tapioca to provide stiffness along with egg white, hydrolyzed soy, corn or wheat protein, artificial colours and flavours, vegetable oils, monosodium glutamate (MSG), and, of course, sugar.