Kasey Potts - OnceUponaPotts - On Living the Keto Life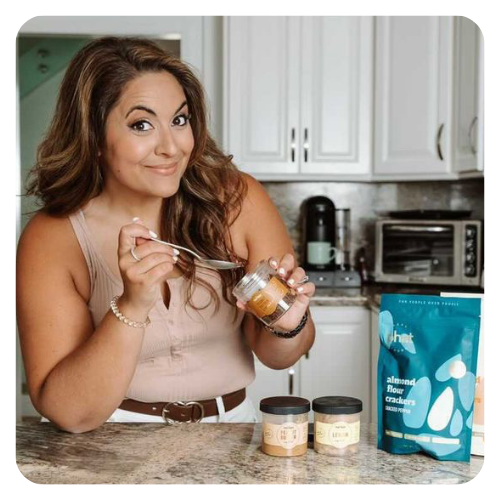 Phat Foodie of the Month is BACKKKK!!! Once a month, we feature someone who is doing incredible things in the healthy food space. Whether they are focused on delicious unique recipes, tips and tricks, or innovations in this arena, their goal is to help you live your most vibrant life.  That's why we love them and we know you will too!  
We couldn't be more excited to introduce you to August's Phat Foodie..Kasey! Her story is so interesting, she is innovative and fun absolutely loves sharing her healthy food finds. 
A little bit about Kasey...
I am originally from a super small town in Massachusetts called Mattapoisett. I had the incredible opportunity at a young age to host a talk show on Radio Disney called "Kasey's Korner" where I would interview celebrities as they came into Boston. I had the chance to meet the likes of Destiny's Child, 98 Degrees, Jessica Simpson, Britney Spears and more. It was this experience that shaped so much of who I am and the paths I've taken. I went to college in Boston at Emerson College where I studied Broadcast Journalism, but while everyone was creating newscasts, I was creating cooking segments and talk shows! I knew I wanted to learn all aspects of television, both in front of the camera and behind the scenes so I absorbed as much as I could from all angles. 
I moved out to Los Angeles in 2011 with my high-school sweetheart and husband, Jay. We bounced around different neighborhoods for a couple years before having our daughter Kennedy and settling into "The Valley", most recently in Westlake Village. 
Pre-pandemic I was able to land a dream job working as Senior Brand Manager for Wolfgang Puck and his catering/events team. It was here that I had the opportunity to learn from amazing chefs, work with a brilliant team, oh and attend The Oscars every year! After five and a half years working with the WP team, like so many others, my dream job came to an end and I needed to figure out, "What now?"
Sharing stories and experiences has always been important to me so I started using my Instagram page @OnceUponaPotts, as my digital scrapbook, a place where I could share the things I love and build a community. Last month I decided to start hosting a "virtual talk show" with weekly live segments, rebooting "Kasey's Korner" where I interview people in my network who inspire, motivate, educate and entertain. It's been amazing to flex this muscle that I created at such a young age in a new way. 
What got her started on her health journey...
Did I mention how much I loved food.... Well, that has led to a lifelong struggle with my weight and body issues. In the summer of 2019 I decided to change my habits and adopt a low-carb / ketogenic lifestyle. It has been incredible. I have more energy, less bloating, better overall immunity and gut health. It's just wild! I lost about 40lbs initially on my keto journey and have been able to maintain the lifestyle thanks to supplements and amazing snack finds like Real Phat Foods!! 
Her top tips for living your healthiest life...
Set yourself up for success. Remove the temptations from your home, stock up on the good stuff and do your best to stay focused. 

It's a marathon, not a sprint. Do not expect overnight results!

Give yourself grace. This is the biggest one for me. If you deprive yourself to an extreme you will not succeed. You can make "conscious off-plan choices", just jump back on track when your next food decision comes around. 
Her fav Real Phat Foods snack...
This is such a toss up for me because I eat the Almond Flour Crackers so often but honestly, once that Chocolate Peanut Butter cookie dough hit the site I was done for. I actually will sometimes layer the straight Peanut Butter cookie dough with the Chocolate Peanut Butter and Oh. My. Word. 
Check her out..
You can find Kasey on Instagram. Check out her yummy finds and get to know all her incredible guests on Kasey's Korner.