Saarah Samadani (@beautymomme) November's Phat Foodie of the Month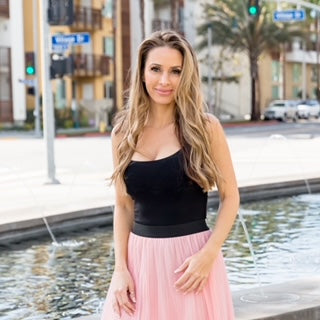 We're so excited to be featuring another incredible Phat Foodie this month. Once a month we highlight someone doing incredible things in the health food space and we are jumping with joy to introduce you to Saarah...November's Phat Foodie!! 
You guys...this woman is incredible and we are honored to share her story with our Phat Fam. She is extremely passionate about natural beauty and clean eating and dedicates so much of her energy to educating and empowering other women to live their healthiest lives. Check out her story below, follow her on Instagram for all the health and beauty tips and inspiration, and check out her incredibly delicious recipe linked below. 
A little bit about Saarah Samadani
Hi there!  My name is Saarah Samadani and I am a holistic health practitioner and digital influencer on my platform BeautyMomme. I'm also CEO/Founder of my own media company called New Bloom Media.
I am dedicated to educating and empowering women about what they put on and in their bodies.  I'm passionate about natural beauty and clean eating using immune-supporting recipes. I take a natural and holistic approach to help women achieve the quality of life that they deserve and the joy that comes with it.
Why did you start sharing your journey with others?
My passion for wellness stems from my own experiences in ensuring that self-care is made a priority in my life after struggling with an autoimmune disease, the failures of traditional medicine, postpartum anxiety and a drastic need to change my beauty routine to eliminate harsh toxic ingredients.  As I embarked on this journey, I realized that there were so many other women that were going through very similar health struggles.  That simply inspired me to continue forward with my platform to help others and make the journey easier for them.
Top tips for keeping your body and mind healthy?
Self-care and self-love are where I like to start with this.  There is that quote that says "you can't pour from an empty cup" and it's something I truly believe in.   It is SO important to take care of yourself first.  I used to think that it was selfish to put yourself first (and sometimes it can be in extreme cases), but honestly, you are the only person who can truly take care of yourself.  Looking outward for that only sets you up for disappointment and issues with self-worthiness.
My self-care routines consist of exercise, good foods, educating myself on what I'm eating, spending time with friends, really listening to my kids, quality time with my kids, and other things that make my soul bloom.
What's your favorite Real Phat Foods product & favorite way to enjoy it?
Oh gosh, so many goodies to choose from. I'd probably have to say that my favorite is the Phat Crackers!  I can polish off an entire bag in one single sitting!  They're just sooooo good. I like to eat it with cheese, or tuna salad. 
PSSSSST-Saarah shared her crazy good TUNA SALAD RECIPE with us. Try it with your Phat Crackers..it's next level delicious. 
Is there anything else you'd like to share with the Phat Fam?
To shop small and local.  Small businesses (myself included) are being drowned out by this virus and some won't ever be able to make it out of it.   This holiday season, look for people who have their own businesses and products and support them.
You can find me at
Instagram @beautymomme
Twitter @beautymomme 
Website New Bloom Media